Participate in our many webinars offered this month, get involved in a local support group or upcoming event, including the Walk for Andrea and the 24 Hour Teal Wheel Challenge.
---
Webinar
tomorrow, August 13

: Managing food allergy in high school
Join us for a lively webinar led by a panel of high school students with food allergy as they share their tips and stories about how they manage food allergy at school.
Details of this webinar:
What is the webinar about: How to navigate food allergy in a high school environment and the importance of preparing for the transition from middle school. This panel will share first-hand experiences and advice for parents and youth and tell them about useful resources. They'll be happy to answer your questions, too.
Who is presenting: Members of Food Allergy Canada's

Youth Advisory Panel

who are currently high school students.
When is the webinar: Tuesday, August 13, 2019 from 8 pm-9 pm EDT
Who should attend: This is a must-attend session for current and soon-to-be high school students. We welcome parents, school staff, and others who are interested in this topic to attend.
---
Webinar: Managing food allergy and anaphylaxis
Attend one of our free webinars that provide fundamental information for managing food allergy and anaphylaxis.
Currently, we are offering 90-minute small group webinars (up to 4 participants) to allow for more interaction. These session are geared towards parents of children who have been recently diagnosed with a food allergy.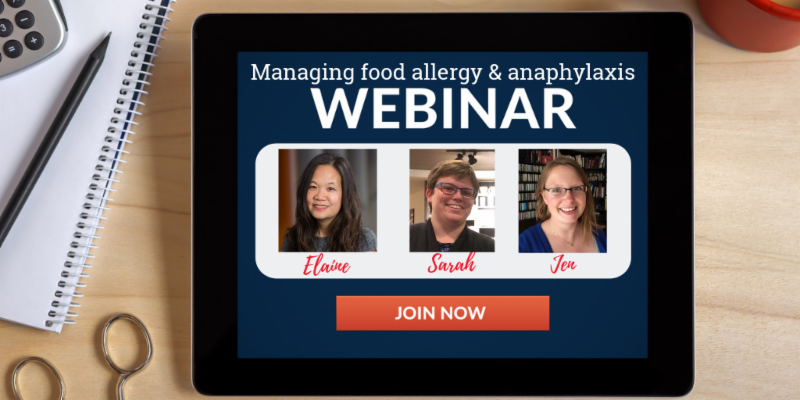 What you'll takeaway:
What is food allergy and anaphylaxis
How to avoid a reaction
What are the signs and symptoms of anaphylaxis
What to do in an emergency
August sessions are full. Register now to reserve your spot in a September session.
If you have already attended one of these webinars, help us spread the word so others can also benefit. Please share!
---
Allergy Pals/Allies mentorship program: Fall session runs from September 28 to November 16 (8 weeks)
Register your child today for this free 8-week online mentorship program, which has received outstanding feedback for children and parents. Every week, kids who are 7-11 years old with food allergy can participate in interactive webinars that provide key educational information on managing food allergy.
We offer two sessions: Allergy Pals (7-11) and Allergy Allies (12-15) that includes 8 weekly one-hour online support sessions on GoToMeeting where children can connect with other children, and learn strategies for managing food allergies so they can feel more confident.
Each webinar is led by older peer mentors with food allergy, and allows children to connect with other children, and learn strategies for managing food allergy so they can feel more confident.
Space is limited so register your child today.
---
Learn about our support groups across Canada and join!
Support groups provide a warm and caring environment for you to get help in dealing with the day-to-day stress of being at risk of anaphylaxis or having a child who is at risk. It's a great way to keep updated on any new developments in the food allergy community.
Read about our support group leaders from across the country and check out the support group meetings this month:
Ontario
Topic: Picnic in the Walter Baker Pavilion
Date: Saturday, August 17, 2019 from 11 am to 1 pm
Location: Walter Baker Park, Charlie Rogers Pl, Kanata, ON K2V 1A7
RSVP:

oasgcontact@gmail.com
Topic: Preparing for back-to-school
Date: Friday, September 6 from 6:30 pm to 8:00 pm
Location: PenFinancial Credit Union Community Room (295 Fourth Avenue, St. Catharines, ON)
RSVP:

pam.isaak@gmail.com
To connect with one of our support groups, visit our support group page. No support group in your community? We can help you get one started.
---
September 22 in Markham, ON: Walk for Andrea
The Walk for Andrea was founded to honour Andrea Mariano, who passed away from an anaphylactic reaction during her first few weeks at Queen's University in 2015.
The Walk for Andrea is an official community fundraiser for the Hospital for Sick Children. All funds raised go to Sick Kids' Food Allergy and Anaphylaxis Program. Food Allergy Canada representatives will also be there to show our support! Join us.
For more information and to register, visit walkforandrea.ca.
---
September 26-27 in Montreal, QC: 24 Hour Teal Wheel Challenge
Participate in the 24 Hour Teal Wheel Challenge in support of Montréal Children's Hospital's Allergy and Immunology Department. The fundraiser will include a 24-hour rider challenge, festival and cocktail fundraiser.

For more information and to register, visit the Facebook page.

Tags: Get involved, support group meetings, webinars, webinars for kids