Attend upcoming events and webinars, plus check out the upcoming support group meetings in Niagara and Toronto!
---
Small group webinar: Managing food allergy and anaphylaxis
Do you have questions on managing food allergy and anaphylaxis? Get your questions answered while connecting with others who can relate. Attend one of our free 90-minute interactive webinars led by a trained parent mentor. You'll learn fundamental information about daily management and living confidently with food allergy and anaphylaxis.
These sessions are geared towards parents of children who have been recently diagnosed with a food allergy.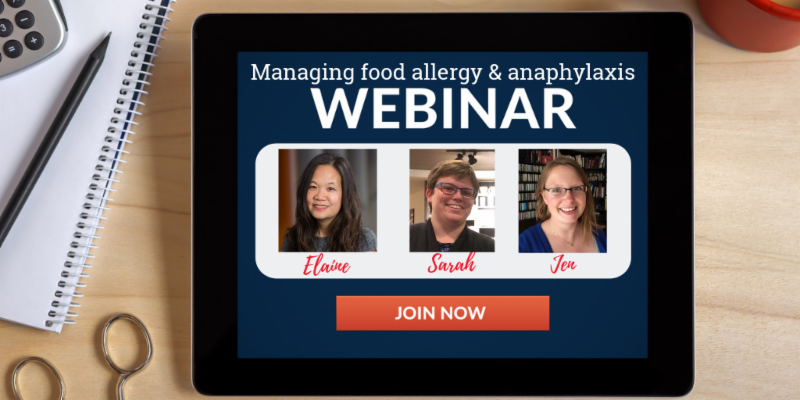 Following the session, you'll be able to answer:
What is food allergy and anaphylaxis
How to avoid a reaction
What are the signs and symptoms of anaphylaxis
What to do in an emergency
These sessions are quite popular and fill up fast, so register now! Our next sessions are March 7th and March 31st.
If you have already attended one of these webinars, please help us spread the word so others can also benefit. Please share!
---
Learn about our support groups across Canada and join!
Support groups provide a warm and caring environment for you to get help in dealing with the day-to-day stress of being at risk of anaphylaxis or having a child who is at risk. Plus, it's a great way to keep updated on any new developments in the food allergy community.
Read about our support group leaders from across the country and check out the upcoming support group meeting:
Ontario
Join Niagara-area parents as they talk about substitutions in cooking, baking and party-planning!
Date: Friday, April 17, 2020 from 6 to 7pm
Location: PenFinancial Credit Union Community Room (295 Fourth Avenue, St. Catharines, ON)
RSVP: Pam at pam.vail@gmail.com or join the

Facebook group

and RSVP on the event listing.
Join TAEG for an evening with Amanda Orlando on cooking with food allergy! Learn more about Amanda in our interview here. Amanda will also be one of our guest speakers for youth at our conference.
Date: Tuesday, April 21, 2020 from 7 to 9pm
Location: Edithvale Community Centre (131 Finch Avenue West, Toronto, ON)
RSVP:

info@taeg.ca
To connect with one of our other support groups, visit our support group page. If there isn't one in your community, we'll help you get one started.
---
April 4-5 in Toronto, ON: Free From & Allergy Expo
The Free From & Allergy Expo is a celebration of 'free from' food, drink and lifestyle products.
We'll be at the conference – be sure to stop by our booth for free resources and information – we'd love to meet you.
Highlights include:
Vegan love zone
Over 200 exhibitors
Celebrity chef kitchen
Kids zone
Free swag bags
Shop and Save on hundreds of products
Living "free from" seminars
Beauty lounge
Sample Free From & Allergy Friendly products
Date: Saturday, April 4 and Sunday, April 5

Location: Enercare Centre, Toronto, ON

Event details and registration: www.freefromexpo.ca/toronto

Tags: foundation in food allergy, Free From Expo, Get involved, Small group webinars, support group meetings, Support groups