Participate in our many webinars offered this month. Attend one of our small group webinars on managing food allergy and anaphylaxis and register for our upcoming webinar on food allergy myths. Plus, learn about our support groups and check out the meeting happening in Toronto this month.
---
Webinar in December: Food Allergy Myths
Learn about the top misconceptions about food allergy to help you separate fact from fiction. If you have a food allergy or care for someone who does, this webinar is a must. Having the right information is important for managing food allergy confidently.
Here are the details:
What is the webinar about: Find out the facts behind some common food allergy myths about food allergens, signs and symptoms, reactions, and more!
Who is presenting: Canadian allergist Dr. Susan Waserman who is a Professor of Medicine in the Division of Allergy/Clinical Immunology at McMaster University in Hamilton, Ontario, and the Director of the Adverse Reactions Clinic at the Firestone Institute of Respiratory Health at St Joseph's Healthcare. She is President of the Canadian Allergy, Asthma and Immunology Foundation, and past President of the Ontario and Canadian Societies of Allergy and Clinical Immunology. Dr. Waserman is also a part of our

Healthcare Advisory Board

.
When is the webinar: Friday, December 6, 2019 from 12pm-1pm EST
Who should attend: Parents, caregivers, educators, healthcare professionals and others who are interested in learning more about food allergy.
Register today, and please share with others who may benefit from the session. At registration, you will have an opportunity to submit your questions in advance of the webinar.
---
Webinar: Managing food allergy and anaphylaxis
Attend one of our free webinars that provide fundamental information for managing food allergy and anaphylaxis.
Currently, we are offering 90-minute small group webinars (up to 4 participants) to allow for more interaction. These sessions are geared towards parents of children who have been recently diagnosed with a food allergy.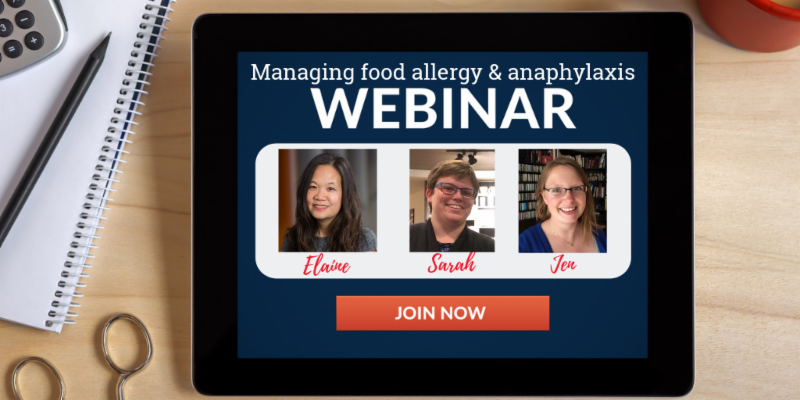 What you'll takeaway:
What is food allergy and anaphylaxis
How to avoid a reaction
What are the signs and symptoms of anaphylaxis
What to do in an emergency
Register now to reserve your spot! Our next sessions are happening on November 12 and November 18.
If you have already attended one of these webinars, help us spread the word so others can also benefit. Please share!
---
Learn about our support groups across Canada and join!
Support groups provide a warm and caring environment for you to get help in dealing with the day-to-day stress of being at risk of anaphylaxis or having a child who is at risk. Plus, you will keep up to date on any new developments in the food allergy community.
Read about our support group leaders from across the country and check out the upcoming support group meeting:
Ontario
Join TAEG for their November support group meeting!
Details of the event
Date: Tuesday, November 19, 2019 from 7 to 9 pm
Location: Edithvale Community Centre, 131 Finch Avenue West, Toronto, ON
For more information, visit the TAEG website at

taeg.ca
Connect with one of our support groups by visiting our support group page. No support group in your area? We can help you start one.

Tags: Get involved, Small group webinars, support group meetings, TAEG, webinars