Attend an upcoming event, including the Walk for Andrea, the 24-Hour Teal Wheel Challenge, and the Sweet Caroline Run. Participate in our many webinars offered this month. Register your 7 to 15-year-old for the fall session of Allergy Pals/Allies mentorship program, and learn more about what the program entails in our upcoming webinar for parents and children. Plus, learn about our support groups and join.
---
30-minute webinar on September 18: Allergy Pals & Allergy Allies – Online Mentorship Program Overview
Join us to learn more about our popular Allergy Pals and Allergy Allies online mentorship programs ahead of the fall session!
Details of this webinar:
What is the webinar about: How the Allergy Pals/Allies programs work, who they are for and what benefits they provide to youth. The webinar will also cover the program expectations, time commitment and other information to help parents and children decide whether online allergy mentorship is a good fit. There will also be a question and answer period at the end.
Who is presenting: Kyle Dine, Youth Program Coordinator
When is the webinar: Wednesday, September 18 from 7:00-7:30 pm EDT
Who should attend: Parents, children, and anyone who's interested in learning more about the program.
Be sure to participate in this quick webinar to learn how Allergy Pals/Allies can have a significant impact on your child's life.
---
Webinar: Managing food allergy and anaphylaxis
Attend one of our free webinars that provide fundamental information for managing food allergy and anaphylaxis.
Currently, we are offering 90-minute small group webinars (up to 6 participants) to allow for more interaction. These sessions are geared towards parents of children who have been recently diagnosed with a food allergy.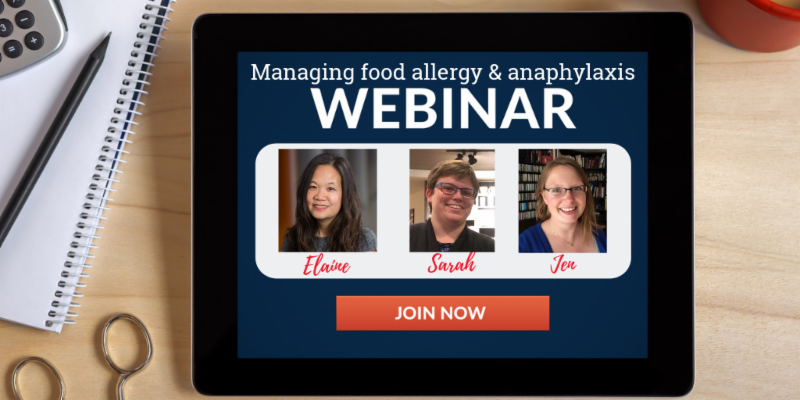 What you'll takeaway:
What is food allergy and anaphylaxis
How to avoid a reaction
What are the signs and symptoms of anaphylaxis
What to do in an emergency
There is limited space in our September sessions, register today.
If you have already attended one of these webinars, help us spread the word so others can also benefit. Please share!
---
Last call to register! Fall session of Allergy Pals/Allies mentorship program begins September 28th
Register your child today for this free 8-week online mentorship program, which has received outstanding feedback from children and parents. Every week, youth with food allergy can participate in interactive webinars that provide key educational information on managing this medical condition.
We offer two sessions: Allergy Pals (ages 7-11) and Allergy Allies (ages 12-15) that includes 8 weekly one-hour online support sessions on GoToMeeting.
Each webinar is led by older peer mentors with food allergy, and allows children to connect with their peers, and learn strategies for managing food allergy so they can feel more confident.
Sign-up your child before September 28th.
Not sure about the program, participate in our 30-minute webinar next week to learn more!
---
Learn about our support groups across Canada and join!
Support groups provide a warm and caring environment for you to get help in dealing with the day-to-day stress of being at risk of anaphylaxis or having a child who is at risk. Plus, you will keep up to date on any new developments in the food allergy community.
Read about our support group leaders from across the country and check out the upcoming support group meetings:
Saskatchewan
Fun for the whole family! Attend the Saskatoon Family Expo and visit the SASG booth to pick-up our printed materials, including fact/tip sheets, checklists, and posters. See the event details below.
Saskatoon Family Expo
Date: Saturday, October 26, 2019 from 10am to 5pm
Location: Prairieland Park – Hall B, 503 Ruth Street West, Saskatoon, SK
For more information and to register, visit

saskatoonfamilyexpo.com

.
Ontario
Date: Tuesday October 29, 2019 at 6:45 pm until 8:30 pm
Location: Ottawa Public Library Elmvale Acres 1910 St Laurent Blvd, Ottawa, ON K1G 1A4
Topic: Presentation from Dr. Waleed Alqurashi, Pediatric Emergency Physician at CHEO Hospital
For more information, please visit the OASG Facebook page under events.
Connect with one of our support groups by visiting our support group page. No support group in your area? We can help you start one.
---
Next Sunday, September 22 in Markham, ON: Walk for Andrea
The Walk for Andrea was founded to honour Andrea Mariano, who passed away from an anaphylactic reaction on campus during her first few weeks at Queen's University in 2015.
The Walk for Andrea is an official community fundraiser for the Hospital for Sick Children.
We will be there to show our support – join us!
For more information and to register, visit walkforandrea.ca. Plus, check out our interview with Kristina Mariano, Andrea's sister, about the Walk.
---
September 26-27 in Montreal, QC: 24-Hour Teal Wheel Challenge
Participate in the 24-Hour Teal Wheel Challenge in support of Montréal Children's Hospital's Allergy and Immunology Department. The fundraiser will include a 24-hour rider challenge, festival and cocktail fundraiser.
For more information and to register, visit the Facebook page.
---
October 6 in Markham, ON: Tough Nutter
Participate in Tough Nutter, Toronto's first ever charity obstacle course made for kids. This event supports the SickKids Food Allergy and Anaphylaxis Program.
Tough Nutter is an exciting, challenging, and safe obstacle course that boosts fun activity in children while supporting food allergy awareness and raising funds for research. Kids in kindergarten to grade 8 are encouraged to register to enjoy this one of a kind course while loved ones cheer them on!
For more information and to register, visit toughnutter.wixsite.com/toughnutter.
---
October 12 in Rothesay, NB: Sweet Caroline Run
This run/walk is to honour the memory of Caroline Lorette who lived her life committed to her family, her friends, her schools, and her athletics. Sadly, Caroline passed away at the age of 14 in 2014 from an allergic reaction to dairy. There is of no better way to celebrate Caroline's life than by coming together in community and sport.
For those of you who are not in the area, show your support by participating in the virtual run!
Be sure to post your photos on social media with #SweetCarolineRun2019.
For more information and to register, visit raceroster.com/events/2019/20123/sweet-caroline-run-2019.
---
October 19 in Toronto, ON: Trunk or Treat
Get dressed up, enjoy food-free "Trunk or Treating" and help launch the 2020 Top 10 Challenge in support of The Canadian Allergy, Asthma and Immunology Foundation (CAAIF). This allergy-friendly event will include Halloween-themed crafts, games, and non-food treats.

Be sure to visit our trunk and create "Shine a teal light" crafts with us!

For more information and to register, visit www.allergyfoundation.ca/events/trunk-or-treat-1.

Tags: Get involved, support group meetings, webinars, webinars for kids