EpiPen manufacturer receives a warning letter from the FDA, congratulate our Summer of TAG winners, review our back to school tips and discover our many resources broken out by ages and stages, find out more about our webinars for parents and kids, and learn about Asthma Canada's rebranding.
---
EpiPen manufacturer receives a warning letter from the U.S. FDA
The U.S. Food and Drug Administration sent a warning letter on September 5th to Meridian Medical Technologies, a division of Pfizer Inc., which manufactures EpiPen® and EpiPen® Jr.
The letter outlined some key concerns raised by the FDA following the inspection of their manufacturing facility earlier this year. Read the FDA warning letter and check out this CBC article on this issue.
For any concerns or questions, please call the EpiPen information line at 1-877-374-7361.
---
Driving the discussion: Summer of TAG winners!
Congratulations to our Summer of TAG Drive the Discussion contest winners! Over 2,300 people entered the contest and helped us to spread awareness of food allergies by posting their favourite food allergy tip on our site, or commenting on a tip.
The grand prize winners are: Marjorie Kelly of Waterdown, Ontario who won a $2,500 Rona gift card and John Cai of Toronto, Ontario who won a $1,000 Lowe's gift card!
The weekly winners, who won either a $500 or a $250 Lowe's/RONA gift card are: Krista Giefer of Saskatchewan, Solange Boucher of Quebec, Shirley Sampson of Ontario, John Qua of Manitoba, Angela Griffin of British Columbia, Zvi Vaxman of Ontario, Lindsey Pewarchuk of Alberta, Nancy Lafrance of Alberta, Kim Valiquette of Québec, and Charmaine Berridge from Ontario.
Thank you to all who participated in the contest!! A big thank you to race car star Alex Tagliani for helping to raise awareness of food allergies across Canada, Pfizer Canada (Canadian distributor of EpiPen®) for their support of this initiative, and Lowe's Canada for being our prize sponsor.
Cheer Alex on September 23rd at the series championship finale at Jukasa Motor Speedway in Hagersville, Ontario. NASCAR will crown its 2017 champion for stock car racing.
Thanks again for all your support in helping to raise awareness of food allergies!
---
Back to school is here!
Helpful tips and resources
We've compiled a list of helpful tips and resources for managing school with food allergies, broken out by ages and stages.
Read more and watch our recent back to school webinar!
September is Asthma Peak month
The back-to-school period brings a dramatic increase in hospitalizations for children with asthma when kids are back in close contact with each other and share germs, like the common cold, that can trigger asthma reactions. Being ready for the September Asthma Peak is one way to help ensure that your child will be spending more time with friends at school, and less time at home, or worse – in the emergency room of a hospital.
Learn more about preventing the September Asthma Peak at Asthma.ca.
---
For kids: Allergy Pals/Allies online mentorship and monthly webinars
Monthly webinars: Next session on September 24th on sports and activities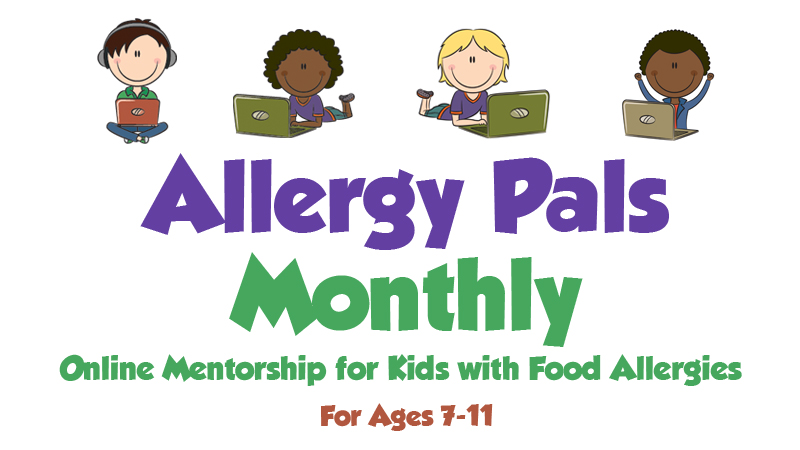 Every month, kids with food allergies that are between the ages of 7-11 can participate in webinars that will cover key educational information on managing food allergies.
Each webinar will be led by a trained peer mentor with food allergies who will highlight a different topic each month, such as birthday parties, friends, school, and bullying. There will also be plenty of interactive games and activities that will have your child glued to the presentation!
The one-hour sessions will be held on the last Sunday of each month at 7 pm EST, and unlike our traditional 8-week Allergy Pals program, there is no long-term commitment with Allergy Pals Monthly.
Register your child today for our next webinar on Sunday, September 24. This month's topic will be on sports and activities.
Allergy Pals/Allies online mentorship: Starts September 30th
Our Allergy Pals/Allies online mentorship fall program runs from September 30th to November 25th, 2017. It's an eight-week program where children, aged 7-15 years, can connect with other children, and learn strategies for managing food allergies so they can feel more confident.
Learn more and register your child today!
---
For parents: Webinars on the foundation in food allergy
Parents with children recently diagnosed with food allergies are encouraged to attend one of our free webinars on managing food allergy and anaphylaxis. Topics that will be covered include the basics of food allergy, risk reduction, symptom recognition, and emergency management. There will also be time for questions afterwards.
For September, we offer the 90-minute small group webinar (up to 4 participants) that allows for increased personalization and interaction. The small group webinars are offered weekly, the next session is September 19th.
These free webinars are a must for parents of children who have been recently diagnosed with a food allergy. They are also great for others who are interested in this topic, or would like a refresher. Please share this information with parents who could benefit from this support. Learn more.
---
Rebranding of Asthma Canada
In June 2017, the Asthma Society of Canada became Asthma Canada. At a time when the prevalence of asthma is on the rise worldwide and in Canada, the name change reflects more inclusive support for all Canadians impacted by asthma, including families, caregivers, healthcare professionals and other support networks.

Asthma Canada has also launched a new website committed to providing education and services to Canadians coast-to-coast to make it easy to find the information you need to live symptom-free. Check it out at Asthma.ca!

Tags: allergy allies, Allergy Pals, asthma canada, Back-To-School, EpiPen, FDA, Kids, september peak, webinars