Check out the impact we made last month for Food Allergy Awareness Month, and register for webinars happening this month – we have one on the introduction of peanut to babies, and others on managing food allergy and anaphylaxis. Plus, read about the latest news from Montreal on changes to one school board's lunch policies, Health Canada's advisory on lupin, and more.
Food Allergy Awareness Month: Thank you for making it a great month!
Last month, it was Food Allergy Awareness Month in Canada and there were many activities to mark the event.
Here's a quick recap of the impact we made, together:
Events
From Thomas Miles (CFL Winnipeg Blue Bomber), a panel of youth and Dr. Gerstner (Pediatric Allergist), to a concert by food allergy advocate Kyle Dine, to our 2017 Youth Conference, there were many live events to support kids and teens with food allergies. We focused on teens and young adults, as they are at the highest risk of an anaphylactic reaction. Collectively, hundreds of youth came out to these events where they learned how to manage their allergies on a daily basis, more confidently.
Webinars
We launched our foundation in food allergy webinars, hosted a webinar on stock epinephrine in public settings, and presented a webinar to food safety inspectors across Ontario to review the importance of food allergen management in foodservice settings. Hundreds of people benefitted from these sessions.
Awareness campaigns
Food Allergy Awareness Month (FAAM) is all about creating awareness outside of our community, and that's just what we did!  From the paint it teal campaign, to having our national monuments lit in teal, to recognition of FAAM in Parliament, to our thank you campaign for foodservice, we drove a lot of attention to food allergies this month! Over 125,000 people saw our messages of awareness throughout the month.
Thank you for helping to make this Food Allergy Awareness Month one to remember! Please keep up the momentum and continue raising awareness in your communities, all year long.
To learn more on how you can raise awareness, give us a call at 1-866-785-5660 or email us at info@foodallergycanada.ca.
---
For healthcare professionals: Webinar on the new guidelines for introducing peanut to babies
We are hosting an upcoming webinar for healthcare professionals on the new guidelines for the introduction of peanut to babies. We hosted a webinar on this topic in March for parents, this webinar will be similar in content, but is intended for healthcare professionals.
The webinar is on Thursday June 8, 2017 from 2pm-3pm EST (11am-12pm PST). Learn more and register today.
---
For parents: Webinars on the foundation in food allergy
Parents with children recently diagnosed with food allergies are encouraged to attend one of our free webinars on managing food allergy and anaphylaxis. Topics that will be covered include the basics of food allergy, risk reduction, symptom recognition, and emergency management. There will also be time for questions afterwards.
We offer the webinars in two formats:
These free webinars are a must for parents of children who have been recently diagnosed with a food allergy. It's also great for others who are interested in this topic, or would like a refresher. Please share this information with parents who could benefit from this support. Learn more.
---
Lupin advisory notice from Health Canada – impacts people with peanut allergy
Health Canada and the Canadian Food Inspection Agency (CFIA) would like to inform Canadians, particularly those with peanut allergy, about a potential risk of consuming foods containing lupin. Lupin is a legume and belongs to the same plant family as peanuts.
While some allergic reactions, including anaphylaxis, to lupin have been reported in people who are not allergic to peanut, most reported allergic reactions have occurred in people with known peanut allergy. Read the advisory.
---
Montreal school board changes its allergy policy

E
arlier this week it was revealed that in a December 2016 memo, the Commission scolaire de Montréal (Montreal's largest French language school board) had instructed its schools to no longer prohibit any foods at their schools (including the priority allergens). In the absence of a Quebec-wide law or policy on managing food allergies in schools, the decision has sparked controversy.
We have been actively responding to this story through media interviews both inside and outside of Quebec.
Our position on this issue
Food allergies affect 300,000 children across Canada and are a growing public health challenge. Our schools must be safe and inclusive for all, and reasonable measures that reduce the risk of a potentially life-threatening allergic reaction should be public policy.
While individuals have the responsibility to manage food allergies safely, when speaking about children in schools there is also a wider social responsibility to reduce the risk of potentially life-threatening reactions to keep them safe.
We are concerned with how the Commission scolaire de Montréal's decision fits within a broader policy framework – and the fact there is currently no universal school allergy policy throughout Quebec. We believe specific decisions on food restrictions are best left to local schools, in consultation with the community, after examining a number of factors that include age/maturity level of children involved, where students eat lunch and snacks, level of adult supervision, other food allergy policies already in place, etc.
It is the overarching law or policy that facilitates and supports such decisions. Many families in Quebec and elsewhere across the country would be more comfortable with such an approach that includes educator training, risk reduction strategies, emergency preparedness protocols, access to epinephrine, and clear communication among parents, students, staff, and administrators. Such measures have been included in legislation passed in British Columbia, Manitoba, and for Sabrina's Law in Ontario, which has proved to be effective. For example, in Ontario, there has not been a single fatality of a student with food allergies in a school since this legislation was passed more than a decade ago.
We have also worked with medical experts from the Canadian Society of Allergy and Clinical Immunology (CSACI) and other patient organizations to create guidelines that are intended to assist schools with allergen management policies. The guidelines are available to all schools throughout Quebec and across Canada.
Read a Canadian Press article on this issue.
---
Deadline coming up: The Sabrina Shannon Memorial Award application deadline June 16th, 2017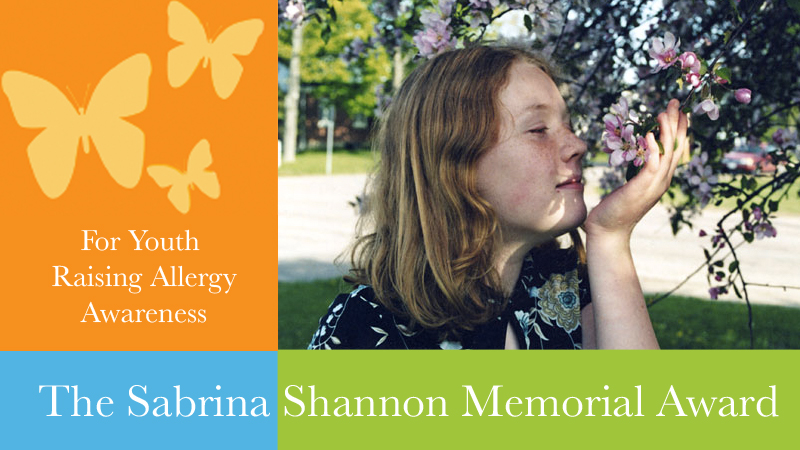 The Sabrina Shannon Memorial Award is dedicated to the life of Sabrina Shannon, an inspiring teenager who suffered a fatal anaphylactic reaction in 2003. Two $1,000 awards will be granted to students entering their first year or continuing their studies at a post-secondary institution. Applicants do not need to have food allergies to be eligible for the award.

June 16, 2017 is the deadline for applications. Learn more and apply today!

Tags: early infant feeding, latest news, McDonald's, sabrina shannon memorial award, stock epi, webinars