Ask the allergist is a regular feature where Dr. Julia Upton answers your questions!
Dr. Julia Upton is a Canadian allergist who is on staff at Toronto's SickKids Hospital in the Immunology and Allergy Department. She is an Associate Professor in the Department of Paediatrics at the University of Toronto and is the past Section Chair of Food Allergy and Anaphylaxis with the CSACI. Dr. Upton is also a member of our Healthcare Advisory Board.
Please note: Dr. Upton is answering as an individual allergist and her answers do not constitute an official position of her affiliated organizations. Her responses are for informational purposes only and do not constitute specific medical advice, recommendations, diagnosis, or treatment. Please talk to your doctor about any concerns or questions you may have regarding your own health or the health of your child.
This month she answers your questions about breastfeeding and early introduction of peanut when the mom has a peanut allergy.
---
I have a peanut allergy and I am breastfeeding my 3-month-old child. My doctor recommended that I introduce peanut to my baby at 4 months. Will I be able to breastfeed my child after she eats peanut butter? How long might it stay in her mouth, and how many hours should I wait before breastfeeding? I am stressed because I had an anaphylactic reaction from peanut butter touching my face.
Your doctor has recommended early introduction of peanut because it has been shown to reduce the chances of a child being allergic to peanut.
Typically, a food has to be ingested in order to cause anaphylaxis. To reduce the risk of exposure to an allergen, washing hands before and after eating or feeding someone else is so important. This is especially the case for families who have a parent with food allergy and/or another sibling with food allergy and are introducing peanut or another allergenic food to their baby. Additionally, some families choose to have peanut in the house while others prefer having it fed to their baby outside the home once it's tolerated, such as at a relative's home.
Another thing to keep in mind is that how long peanut stays in saliva varies, which may be 4-6 hours. However, it may not be as important in this case because breastfeeding is a skin exposure. While the risk of a skin exposure triggering an anaphylactic reaction is very low, there is a potential increased risk if a breastfeeding mom has cracked nipples.
There may be other approaches that fit with your lifestyle. For example, if you are pumping breast milk you may consider feeding your baby with pumped milk after she eats peanuts. This level of caution is likely not required for the skin exposure to peanut.
To help decide on the risk/benefit of the situation and other considerations, please discuss with your physician before starting early introduction.
---
Learn more
Early introduction
Learn more about early introduction from our website and recorded webinars, including one on early introduction during COVID-19.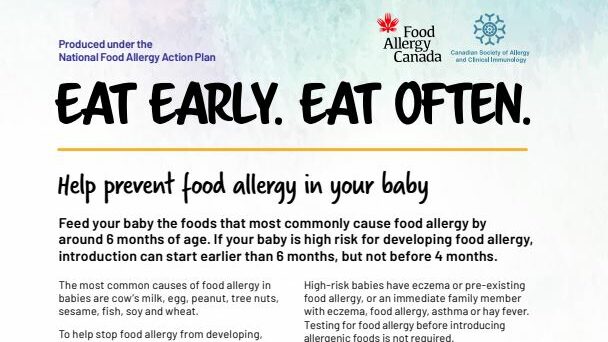 Parent resources

Check our two parent resources:

1. Eat Early. Eat Often with practical tips and recipes

2. Early Introduction of Allergens: FAQs for families.

Do you have a question you'd like to ask Dr. Upton in the months to come? If so, please send it along to us at info@foodallergycanada.ca. Please note: Dr. Upton answers questions on general topics, please talk to your doctor if you have questions about your own health or the health of your child.

Tags: Adults with Allergies, early infant feeding, early introduction, Peanut