Learn about the benefits of the Allergy Pals/Allies online mentorship program and register your 7-15-year-old today for the winter session. Get educated with our "encore presentation series" with this month's focus on managing confidently. Attend an upcoming small group webinar on managing food allergy and anaphylaxis. Plus, learn about our support groups and connect with one virtually. You can also read about Carla and Annie's journey with food allergy and their Montreal Allergy Support Group.
---
Allergy Pals/Allies online peer mentorship program – winter session begins next week!
The free 8-week online program for kids ages 7-15 begins on Saturday, January 23rd.
Watch the video below to get an overview of the program. You'll learn about how the program works, the benefits of participating, the program expectations, and the time commitment.
---
Managing confidently encore presentation series
In this series, we feature past online events and webinars. This month watch our managing confidently series to help you better understand how to treat reactions and when to use epinephrine. Get educated with the videos below and please share with others who may benefit.
For young kids
Food allergies and epinephrine
Understand how epinephrine treats anaphylaxis, and hear stories on reactions and the use of epinephrine auto-injectors. Plus, learn how to practice by using an auto-injector training device, tips on remembering to carry your auto-injector, and ways to carry and take care of it.
For youth
The physical and emotional sides of severe allergic reactions
Learn the signs and symptoms of anaphylaxis, when to use epinephrine, and how to navigate both the physical and emotional sides of allergic reactions. Hear from Kyle Dine, food allergy educator and leader of our youth programs, Canadian allergist Dr. Julia Upton, and a panel of youth/young adults with food allergy who share their reaction stories and lessons learned.
For anyone interested in food allergy
Understanding when to use epinephrine
Learn when to use epinephrine, the role of epinephrine and the importance of using it during anaphylaxis.
---
Small group webinar: Managing food allergy and anaphylaxis
Get your questions on managing food allergy and anaphylaxis answered while connecting with others! Attend one of our free 90-minute interactive webinars led by a trained parent mentor. You'll learn fundamental information about daily management and living confidently with food allergy and anaphylaxis.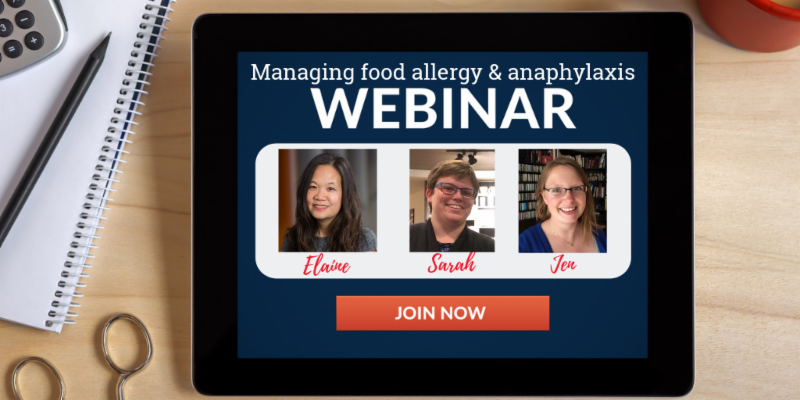 These sessions are geared towards parents of children who have been recently diagnosed with a food allergy. It's also a great session for others who are interested in this topic, or would like a refresher.
Following the session, you'll be able to answer:
What are food allergy and anaphylaxis
How to avoid a reaction
What are the signs and symptoms of anaphylaxis
What to do in an emergency
We have extended the number of participants that can attend these sessions. Be sure to register now, as spaces fill up quickly. Our next sessions are Tuesday, January 19th and Saturday, February 6th.
If you have already attended one of these webinars, please help us spread the word so others can also benefit. Please share!
---
Learn about our support groups across Canada and connect with one virtually!
Support groups provide a warm and caring environment for you to get help in dealing with the day-to-day stress of being at risk of anaphylaxis or having a child who is at risk. Plus, it's a great way to keep updated on any new developments in the food allergy community.
Most of our support groups have online presence through social media and are connecting virtually during this time. Find one near you and connect online! If there isn't one in your community, we'll help you get one started.
Support group profile: Montreal Allergy Support Group
This month, we feature Carla and Annie who co-lead the Montreal Allergy Support Group (MASG). Learn about their story and connect online!
---
Tags: allergy allies, Allergy Pals, encore series, Get involved, Small group webinars, Support groups