Attend an upcoming webinar from our "Creating a better future" series. Learn more about our support groups and their leaders. Plus, watch the next video in our cooking series with Amanda Orlando, and get creative in the kitchen with Daiya!
---
Creating a better future webinar series
Join us for the upcoming webinars in our "Creating a better future" series! There will also be time for questions at the end of the presentation.
Here are the details:
The madness behind the numbers – accurate diagnosis, is it possible?
Date: May 27 from 1-2 pm EDT
Presented by: Dr. Edmond Chan
Topic: How is food allergy diagnosed, how do you interpret the results, and what is the role of an oral food challenge? Are you, or is your child, a good candidate for de-labelling?
Find out more during this session.
Youth session: Managing anxiety and bullying
Date: June 9 from 12-1 pm EDT
Presented by: Samara Carroll, Registered Social Worker and food allergy counsellor
Topic: Youth will learn effective and healthy strategies on how to manage food allergy. Samara will talk about bullying, what is not acceptable, and how to deal with it if it happens. She will also discuss how to recover emotionally from an allergic reaction.
The truth behind immunotherapy, is it right for you?
Date: June 17 from 1-2 pm EDT
Presented by: Dr. Julia Upton
Topic: Are you considering immunotherapy for you or your child?
Dr. Upton will discuss the different methods of immunotherapy in terms of efficacy, safety, and practicality.
Learn how the therapies work and what you should consider if you are thinking about these therapies.
Understanding when to use epinephrine
Date: June 24 from 12–1 pm EDT
Presented by: Dr. Moshe Ben-Shoshan
Topic: This session addresses the role of epinephrine and the importance of using it during anaphylaxis.
In this interview style session, you learn about the research behind why epinephrine is underutilized and what can be done.
Review the signs and symptoms of an allergic reaction, and learn what role, if any, antihistamines have during a reaction.
Thank you to our Creating a better future webinar series sponsors: ALLERJECT®, The Walter and Maria Schroeder Foundation, EpiPen®, Sean Delaney Memorial Golf Classic.
Register today for the webinar series, and please share with others who may benefit from the session! At registration, you will have an opportunity to submit your questions in advance of the webinar.
---
Small group webinar: Managing food allergy and anaphylaxis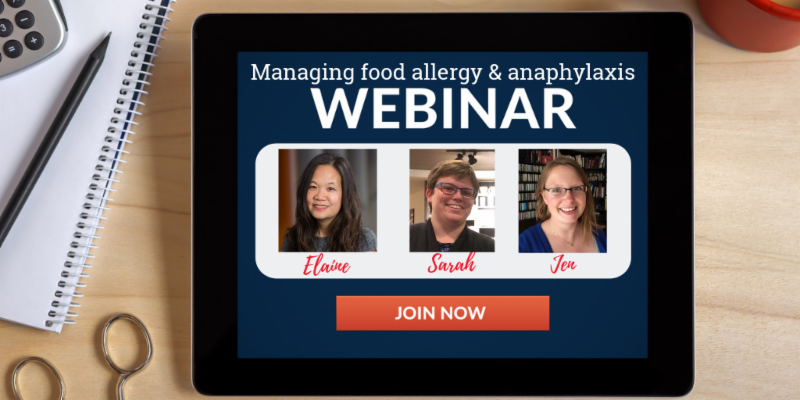 Do you have questions on managing food allergy and anaphylaxis? Get your questions answered while connecting with others who can relate, right from your own home! Attend one of our free 90-minute interactive webinars led by a trained parent mentor. You'll learn fundamental information about daily management and living confidently with food allergy and anaphylaxis.
These sessions are geared towards parents of children who have been recently diagnosed with a food allergy; however, anyone looking to learn more about food allergy is welcome to attend.
Following the session, you'll be able to answer:
What is food allergy and anaphylaxis
How to avoid a reaction
What are the signs and symptoms of anaphylaxis
What to do in an emergency
We have extended the number of participants that can attend these sessions during this time. Register now to save your spot! Our next sessions are May 29thand June 6th.
If you have already attended one of these webinars, please help us spread the word so others can also benefit. Please share!
---
Watch the videos: Cooking video series with Amanda Orlando
Check out our video series with Amanda Orlando on how to cook without common food allergens.
NEW! Avoiding cross-contamination during self-isolation
Learn tips on how to avoid cross-contamination in your kitchen during this time of self-isolation.
Harvest vegetable and wild rice one pan meal
Learn how to make Amanda's delicious harvest vegetable and wild rice one pan meal.
Tips for managing eczema
Amanda talks about her experience with eczema and shares helpful tips for managing the condition.
Banana bread, pandemic chat, and extending the life of your food
Learn how to make her delicious banana bread recipe and extend the life of your food during this pandemic.
About Amanda
Amanda is a blogger at Everyday Allergen Freeand the author of the inclusive cookbook, Everyone's Welcome. Learn more about Amanda in our interview.
Stay tuned for our next video with Amanda coming soon! Subscribe to our YouTube channel, so you don't miss it.
---
Watch the videos from our past events
It has been such an exciting few weeks with so many informative webinars and events for adults and kids. You may have missed some of our past events. Not to worry! We've got you covered. The recordings of the events are available on our recorded webinars page.
For adults:
For youth:
Food Allergy Storyteller series: Facebook Live sessions with food allergy educator and musician Kyle Dine. Watch the recordings below!
Episode 1: Allergy Attitude
Episode 2: Allergy Safety
Episode 3: Allergy Empowerment
Facebook Live: Food Allergy Education virtual show with Kyle Dine. Watch the recording with your child.
---
Learn about our support groups across Canada!
Support groups provide a warm and caring environment for you to get help in dealing with the day-to-day stress of being at risk of anaphylaxis or having a child who is at risk. Plus, it's a great way to keep updated on any new developments in the food allergy community.
Please note the in-person support group meetings have been cancelled or postponed to allow for physical distancing during this time. Check our events calendar in the coming months for meeting updates.
Most of our support groups have online presence, through social media. Find one near you and connect online! If there isn't one in your community, we'll help you get one started.
---
Support group profile: Dresden Area Allergy Support Group profile
We are proud to partner with support group leaders and community advocates across Canada to serve as local resources for individuals and families living with food allergy.
This month, we feature Robyn Buchan who leads the Dresden Area Allergy Support Group. Please note, this interview was conducted prior to the COVID-19 pandemic.
Can you tell us a little about the Dresden Area Allergy Support Group and how it came to be?
Jillian Kemp, who has a child with peanut and tree nut food allergy, created our support group so parents of children with food allergy could connect in our rural area of Dresden, Ontario. It was created to share resources, stories, and create awareness. The closest food allergy support groups before the creation of our group were over an hour away by highway, which created a barrier for food allergy parents in our area.
Can you tell us a little about your background? Do you have food yourself, or do your children?
My son Jacob was born with several food allergies. He is now down to just milk. Our allergist does not believe that he will outgrow it, we are still exploring options and treatments to potentially help him with his food allergy. (Learn more about food allergy treatments and therapies).
What do you think draws members to your group?
We have a small group, which makes us a close-knit community. Several of us are teachers or educational assistants, so we have a common goal of getting more food allergy education into our schools.
How does your support group help families in the Dresden area in dealing with issues regarding food allergy?
Our group assists by holding monthly meetings to come up with ideas about food allergy awareness and just share our stories and experiences. It's very powerful to connect with others who are going through the same things as you.
Where do you meet?
We typically meet in Dresden at the Youth Centre. We plan on trying other areas within 20 minutes of Dresden to see if that'll draw new members.
Where can people find out more information?
People can find out more information on our Facebook page called Dresden Area Allergy Support Group. They can also feel free to email me at robyn.buchan@hotmail.com.
What advice would you give to someone newly diagnosed with a food allergy, or who is having a difficult time managing food allergy?
Being diagnosed with a food allergy or having a child diagnosed with a food allergy is difficult. Seek advice from your doctor, pediatrician, and allergist. Know that you can seek other opinions! Also, join a local support group to share your story and get some information to help you on your new journey.
What advice would you give others who are thinking of starting an allergy support group?
Starting an allergy awareness group is easier than you think! Just contact Food Allergy Canada and/or stop in at your local food allergy support group.
Is there anything else you'd like to add about leadership, the support group, Food Allergy Canada, or living with food allergy?
Meetings aren't the only thing that we do. We often hold fun and free (or low cost) events for children with food allergy and their families. Popular events are our Halloween Party and our Easter Egg Hunt with non-food prizes in the eggs. We are also hoping to put a float in our local Christmas parade this year for the first time!
---
Thank you Robyn for sharing your story with us!
To connect with Dresden Area Allergy Support Group or one of our other support groups, visit our support group page. If there isn't one in your community, we'll help you get one started.
---
Get creative in the kitchen with Daiya and revel in delicious!
We're excited to share a couple delicious recipes and a special offer from Daiya!
Daiya specializes in innovative plant-based foods, all of which are free from dairy, gluten, soy, and many other common allergens.
Daiya was to be one of our exhibitors at our 2020 conference. Since that has been cancelled, they still wanted to ensure that our members benefitted from a couple of delicious recipes, and a special offer just for our members. Thank you Daiya!!
Check out the recipes below and make them yourself!
Click

here

to download the digital coupon. For more information about Daiya, please visit daiyafoods.com
Tags: Amanda Orlando, Creating a better future, Get involved, Small group, Support group profile, Support groups, webinar, webinars, webinars for kids, Youth webinar