Take our 3-question survey and let us know which webinar topics would be of interest to you! Register for our upcoming webinars, including on the development and prevention of cow's milk allergy, Allergy Pals/Allies winter session, a free 8-week online youth mentorship program that is highly recommended by past participants, and our small group webinars on managing food allergy and anaphylaxis. Learn about our support groups across Canada and get your tickets now for the "Free To Be Me" Food Allergy Wellness Retreat.
---
Help inform our educational webinar programming for 2023
We want to hear from you! Tell us which food allergy-related topics you want to learn more about by completing our three-question survey. Your feedback will help inform our 2023 educational webinar programming priorities and is instrumental in helping us serve you better!
Please take a few minutes to complete our short survey today.
Be sure to visit foodallergycanada.ca/events to register for upcoming webinars throughout the year.
---
---
Webinar in February: Cow's milk allergy: A closer look at development and prevention in infancy
On February 9th, 2023 from 12pm-1pm EST, join us to hear from Dr. Edmond Chan on cow's milk allergy development and prevention in infancy. This webinar is targeted to expectant and new parents, dietitians, nurses, and other healthcare professionals who provide pre-natal and post-natal support.
The webinar will cover:
Current guidance recommended by the Canadian Paediatric Society (CPS) and the Canadian Society of Allergy and Clinical Immunology (CSACI) for preventing food allergy in babies
Insight from the latest studies on increased risk of cow's milk allergy from intermittent supplementation with cow's milk formula, and on the importance of keeping allergenic foods in the baby's diet regularly to maintain tolerance
Practical strategies for cow's milk protein introduction
---
---
Allergy Pals/Allies online peer mentorship program – winter registration is now open!
The free 8-week online winter session begins January 29, 2023. By participating in the program, kids will:
Build a support network by connecting with other children who have food allergy
Learn strategies for managing their food allergy
Feel more confident managing their food allergy
Watch the video below to find out how the program works, program expectations, and time commitment.
---
---
Next session is TOMORROW! Small group webinar (maximum 6 participants): Managing food allergy and anaphylaxis
Get your questions on managing food allergy and anaphylaxis answered while connecting with others! Attend one of our free 90-minute interactive webinars led by a trained parent mentor. You'll learn fundamental information about daily management and living confidently with food allergy and anaphylaxis.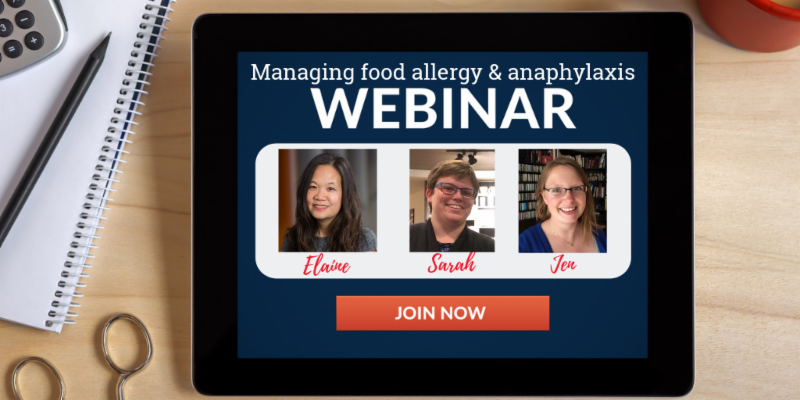 These sessions are geared towards parents of children who have been recently diagnosed with a food allergy. It's also a great session for others who are interested in this topic, or would like a refresher.
Following the session, you'll be able to answer:
What are food allergy and anaphylaxis
How to avoid a reaction
What are the signs and symptoms of anaphylaxis
What to do in an emergency
Sessions are limited to 6 attendees, so register now to save your spot. Our next sessions are tomorrow, Saturday, January 14th and Wednesday, January 18th.
If you have already attended one of these webinars, please help us spread the word so others can also benefit. Please share!
---
---
Discover our support groups and connect with one!
Looking for others who can relate to living with food allergy? Our support groups provide a warm and caring environment for you to get help in dealing with the day-to-day stress of being at risk of anaphylaxis or having a child who is at risk. Plus, it's a great way to keep updated on any new developments in the food allergy community.
To connect with one of our support groups, visit our support group page. Most of our support groups connect through social media. If there isn't one in your community, we'll help you get one started.
---
---
"Free To Be Me" Food Allergy Wellness Retreat 2023 with Amanda Orlando
Join blogger and cookbook author Amanda Orlando for the inaugural "Free to Be Me" Food Allergy Wellness Retreat that she is organizing. The focus of this retreat is self-acceptance and thriving with food allergy.  
The retreat includes a series of workshops, speakers, and a panel discussion. Plus, there are separate streams of programming for parents and teens or young adults. You'll also have an opportunity to hear from our executive director, Jennifer, who will lead a lunch and learn session.  
The event will be on Friday, April 14 and Saturday, April 15, 2023 in Toronto, Ontario.  Get all the details at freetobeme.ca. 
---
---
Encore presentation series: Food allergy and asthma
In this series, we feature past online events and webinars. This month, we are featuring our food allergy and asthma webinar. Asthma can be triggered throughout the winter months due to the cold weather and flu season. Watch our webinar to learn about the importance of controlling asthma.
Are individuals who have both food allergy and uncontrolled asthma at an increased risk for severe allergic reactions?
Find out how food allergy and asthma are related and how these conditions can be successfully managed through our informative and educational webinar with two expert guests, Dr. Mariam Hanna and Dr. Doug Mack.
You will learn:
How food allergy and asthma are related and impact each other
What controlled asthma is and why it is important in relation to food allergy
How uncontrolled asthma can make food allergic reactions more severe
How to tell the difference between an asthma attack and anaphylaxis, and what to do when unsure
The importance of controlled asthma for patients undergoing OIT/desensitization therapies
Strategies to control asthma, and more!
---
Tags: Allergy Pals, encore series, webinars